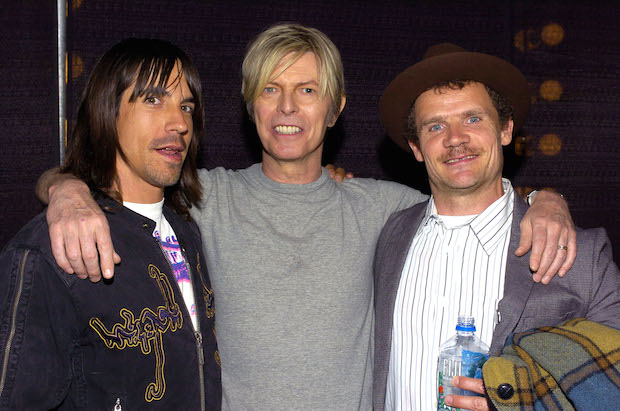 Photo: L. Cohen
Well folks, it seems even David Bowie has an issue with the Red Hot Chili Peppers.
Anthony Kiedis, frontman to the Red Hot Chili Peppers, recently revealed how David Bowie refused to work with the Chili Peppers, not once, but THREE times!
Kiedis recalls reaching out to Bowie:
"Every record we ever made, we had the band discussion. 'Who should we get to produce this record?', 'I don't know, we have to try someone new!' 'Let's get David Bowie!' 'Okay, let's call him.'"

"So in the beginning we would call him, and he would say 'no', respectfully. Then later we would write long emails explaining everything, and why it was time for us to really get our ships on, and he always respectfully declined. For two minutes I was heartbroken, and then I would hear [RHCP drummer] Chad Smith play drums, and I'd be like, 'We're good, we could do something else.'"

"We asked him to produce [2002 album] By the Way… and then we asked him again for our next record, which was [2006 LP] Stadium Arcadium. He said no to us two or three times, but his mate [Brian] Eno, who we've also been asking our entire career to produce a record for us, has said no eight times."
Don't worry Anthony, you're not the only one he said "no" to (*cough Coldplay *cough *cough).
Give it away, indeed.
We don't think RHCP is taking it too hard though, Flea dawned his new "Bowie" tattoo right after his passing.