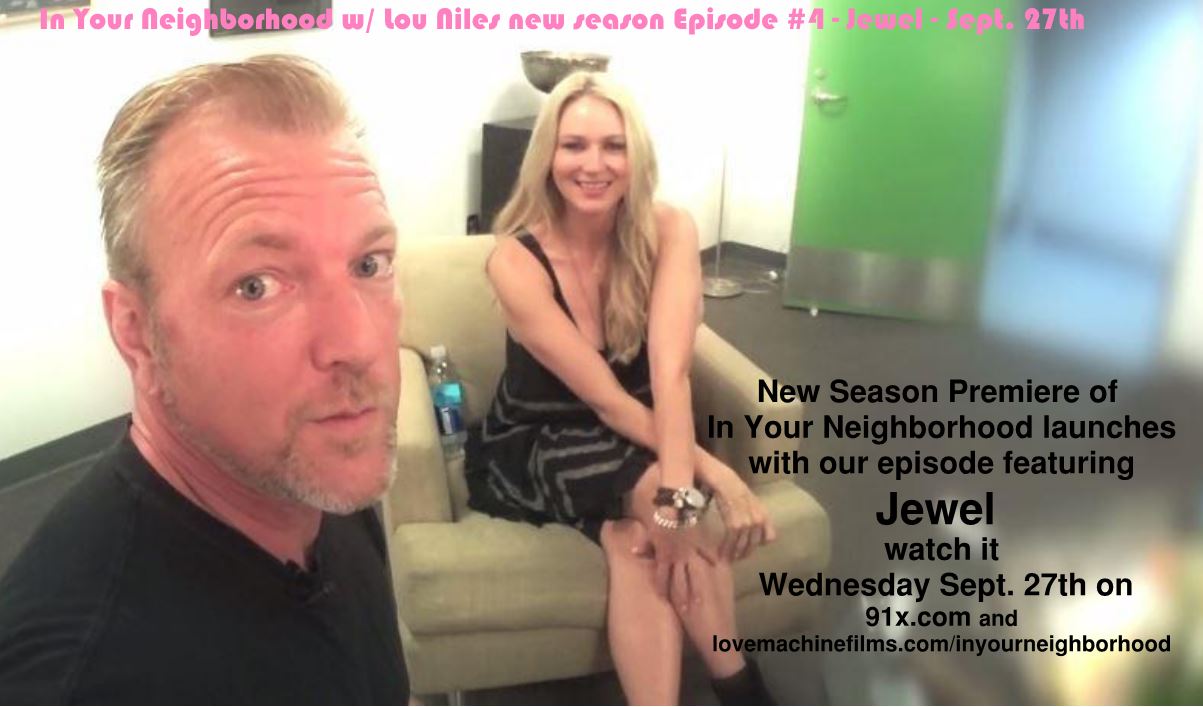 For Immediate Release 9.23.17
In Your Neighborhood w/Lou Niles the web series season premier launches Wednesday September 27th on 91x.com, lovemachniefilms.com/inyourneighborhood, featuring my visit with Jewel Kilcher.
In Your Neighborhood is a web series produced by Love Machine Films guided by longtime local music supporter Lou Niles that takes a deeper look into the people, places, events, art, recording, culture and causes that make up the fabric of the local music scene.
This episode features Jewel Kilcher. It takes a one on one look back to the time Jewel was living in her van around San Diego and building her following. We also talk about recording her new album, where she has been and where she plans on going.
Jewel as we know her, got her first start in radio on 91x Loudspeaker with me – Lou Niles. A good friend, Steve Poltz invited me to one of his shows at which Jewel jumped up for a few songs in the middle of the Rugburns set.
I was blown away and knew I had to get her music on the radio for more people to hear.
I was with 91x Loudspeaker from the early days in 1988. With host Marco Collins 1988/89 and when he left and I was host and producer 1990 onward well into 1996 and put a ton of my time into the scene, growing the scene and getting bands noticed by labels in Los Angeles and New York.
When I brought Jewel in to Loudspeaker she was just starting to work on her following, it was before she was a big deal here and before she had any recordings.
Because she did not have any recordings I had her come in live 2x times to the studio and play live on the air, 3-4 songs each time.
I taped a few songs each time and then put those on CARTS and that was how I played Jewel on Loudspeaker back in 1992 and forward until she recorded. This was all before she was being chased by record labels.
Some of those songs she played live on my show were never recorded, never released. Her latest album actually has one of those songs on it, a song called Nicotine Love. In this episode, we talk about how we met, coming into the studio, the old days and getting started, the people who helped her in the early days, how she feels about music now, her new recording process, her latest album and her book. Check out this episode and share it with your friends. – Lou Niles
Again the episode will premiere Wednesday September 27th on
www.91x.com/dj/lou-niles and www.lovemachinefilms.com/inyourneighborhood