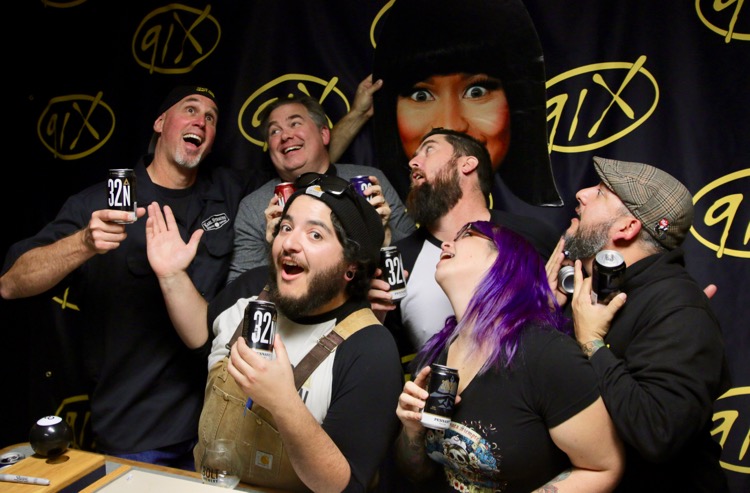 Located in San Diego's Miramar (okay, "Beeramar") area and named for San Diego's latitude on the globe, we have to admit we weren't consulting too many maps ahead of 32 North Brewing Co.'s visit to Beer for Breakfast, but we were looking forward to trying some of 32 North's selection of beers, including the Shelter Island Blonde, Pennant Pale Ale, Best Coast IPA, and a new dark Belgian Ale the 32 North team is readying for release in January called Julia's Grand Cru.
Joining us on Beer for Breakfast this week were 32 North head brewer Nick Ceniceros and brewer and barrel master Jeff Swem, and as always we were joined by Paul Segura — our regular beer svengali from the Karl Strauss Brewing Co.
Shelter Island Blonde
Befitting the blonde name by pouring with a clear gold color, this blonde features a moderate biscuit malt aroma with earthy hops. Light but nicely bitter with a dry finish. At 5.1 percent ABV this is a refreshing beer, and intoxicating just to look at.
Best Coast IPA
A classic San Diego IPA at seven percent ABV, this beer sports a pine-like aroma worthy of Mount Laguna with some lingering sweetness on the back end. Packed with Centennial and Chinook hops, this is a very bright, refreshing beer.
Julia's Grand Cru Dark Belgian Ale
Now being readied for release in early January, Julia's Grand Cru is named for a special little girl named Julia who's fighting cancer. The beer is intended to help raise money for Julia's care, and to highlight the ongoing efforts of parents and families with small children fighting to beat the disease. We'll update up you here and at the What's Hoppening blog as to when the official Julia's Grand Crew release at 32 North will be.
This week's Beer for Breakfast team included 91X morning host Tommy, Producer Danielle, and What's Hoppening curator Abel Garcia — and Paul Segura from Karl Strauss Brewing.
Thanks to Kaitlin Lester for the photos.
As always, special thanks to Paul Segura from Karl Strauss Brewing.
Find out more about craft beer releases and events in San Diego at the 91X What's Hoppening blog.
Beer for Breakfast is supported by San Diego-based Keg and Bottle, with locations in the College Area, Lemon Grove, Clairemont, Del Cerro, National City, Sorrento Valley, Rancho San Diego, La Jolla and Santa Barbara. Shop at Amazon Prime Now via Keg and Bottle for free, two-hour delivery on beer, wine and spirits.