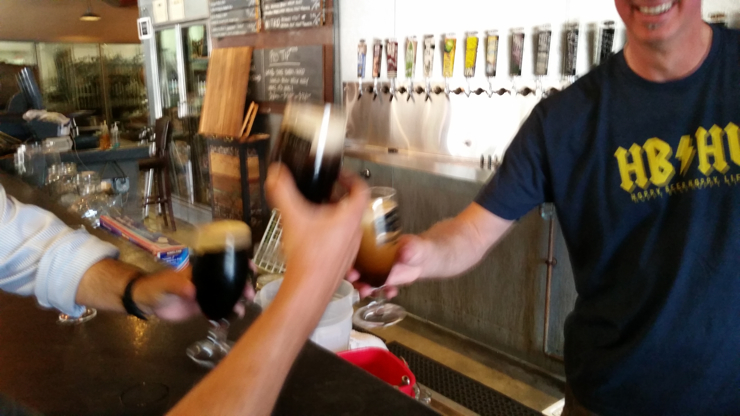 We kept things centered on St. Patrick's Day for this week's edition of Beer for Breakfast, as 91X craft beer enthusiast Paul Segura from Karl Strauss Brewing demonstrated the correct way to pour a Black and Tan for Tommy, Producer Danielle and Abel from the 91X What's Hoppening blog.
A good Black and Tan starts with the iconic Guinness Draught, which is actually a rather light beer in terms of ABV and calories, i.e. you can drink it session-style and maintain as necessary.
The other addition is a genuine Irish lager, rather than an English lager (skip the Bass), so Paul opted for Harp – a Guinness-crafted lager that's curiously one of the minor lager brands in its native Ireland, but readily available in the U.S. Harp is also rather young for Irish drinking culture, having only been introduced to the marketplace in 1960.
Guinness Draught
4.2 percent ABV
Harp Premium Irish Lager
5.0 percent ABV
From there, you need a bent soup spoon, and a steady hand to pour the Guinness atop the Harp on the concave (mound) side up of the spoon. The result should be the lighter beer floating on top – in this case, the Guinness. And there's your Black and Tan.
And since it's St. Patrick's Day, skip the green beer and opt for a genuine San Diego-made Irish red in the form of the Karl Strauss Brewing Co. classic – and World Beer Cup and Great American Beer Festival gold medal winner – Red Trolley Ale.
Karl Strauss Red Trolley Ale
5.8 percent ABV
As always, special thanks to Paul Segura.
Find out more about craft beer releases and events in San Diego at the 91X What's Hoppening blog.
Beer for Breakfast is supported by San Diego-based Keg N Bottle. Shop at Amazon Prime Now via Keg N Bottle for free, two-hour delivery on beer, wine and spirits, and check out Keg N Bottle locations in the College Area, Lemon Grove, Clairemont, Del Cerro, National City, Sorrento Valley, Rancho San Diego, La Jolla and Santa Barbara.