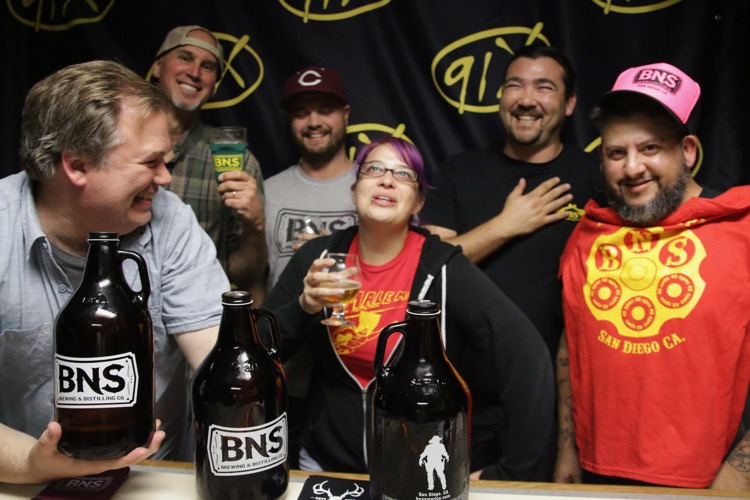 BNS Brewing and Distilling Co. joined 91X for this week's edition of Beer for Breakfast, and while BNS has only been around since 2012, they've already racked up two gold medal awards and a silver at the last two Great American Beer Festivals — not too bad for only four years in.
Joining us for this week's edition of Beer for Breakfast were BNS sales representative Darren Izadi and head brewer Dan Jensen, both of whom mentioned the burgeoning East County craft beer scene, as well as the relative closeness of Santee to other areas of San Diego. And we were more than happy to try the three award-winning BNS beers:
Old Prospector Red Ale
5.5 percent ABV
2016 GABF Gold Medal Award winner
Revolver IPA
6.5 percent ABV
2015 GABF Gold Medal Award winner
Gatling Gun Imperial Stout
9.0 percent ABV
2016 GABF Silver Medal Award winner
As always, the Beer for Breakfast team included 91X morning host Tommy, Producer Daneille, What's Hoppening curator Abel Garcia and our coiffable beer svengali pal Paul Segura from the Karl Strauss Brewing Co.
Thanks to Kaitlin Lester for the photos.
Special thanks to Paul Segura and Karl Strauss Brewing Co.
Find out more about craft beer releases and events in San Diego at the 91X What's Hoppening blog.
Beer for Breakfast is supported by San Diego-based Keg and Bottle, with locations in the College Area, Lemon Grove, Clairemont, Del Cerro, National City, Sorrento Valley, Rancho San Diego, La Jolla and Santa Barbara. Shop at Amazon Prime Now via Keg and Bottle for free, two-hour delivery on beer, wine and spirits.