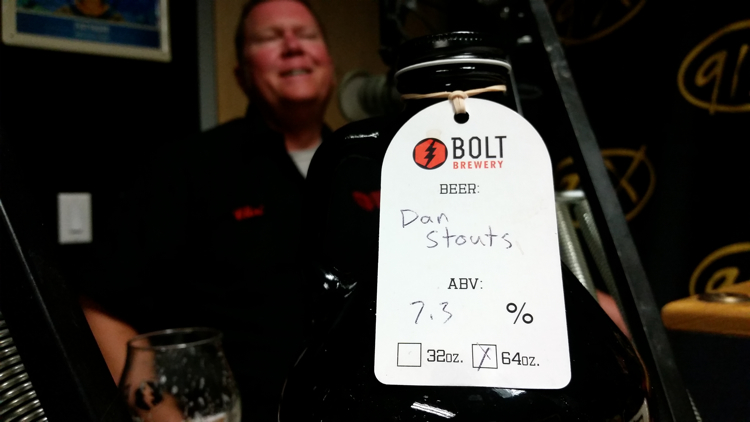 This week the 91X Beer for Breakfast team played host to Bolt Brewery, which can legitimately lay claim to being the first genuine craft beer outlet in San Diego, having gone into production in 1987 — a full two years before Karl Strauss Brewing in 1989.
Joining us from Bolt Brewery was master brewer and "Grand Hop" Clint Stromberg, one of the originals of the San Diego craft beer scene who cut his teeth with the original Bolt Brewery in the late 80s before going to Mission Brewing — and then coming full circle and resurrecting Bolt in 2014. Also joining us was Bolt head brewer Chris Angel.
And after guest appearances by Jill Davidson of Pizza Port and Brandon Sieminski of Iron Fist, we welcomed back our regular "beer svengali" Paul Segura from Karl Strauss Brewing, who has been in France the last few weeks working on a beer collaboration. So let's get crushable and coiffable:
Anchor Bolt Single IPA
Bolt Brewery's flagship IPA features a "dash of hop haze" from a variety of American Hops, with floral, citrus and pine characteristics packed into a crisp IPA.
Deez Hops IPA
A double IPA with a dank, resinous hop flavor and aroma, backed by a dash of tropical fruit flavors — and smoothed out by a light caramel malt.
Dan Stouts
One day years ago Clint was brewing the 14th batch of this stout while watching a Chargers game on TV, when he decided he'd found the right formula, and opted to name it for long-time Bolts quarterback Stan Humphries. Hah — of course we mean Dan Fouts!
This week's Beer for Breakfast team included 91X morning host Tommy, Producer Danielle, and What's Hoppening curator Abel Garcia — along with the return of Paul Segura from Karl Strauss Brewing!
Thanks to Rick Romero for the photos.
As always, special thanks to Paul Segura from Karl Strauss Brewing.
Find out more about craft beer releases and events in San Diego at the 91X What's Hoppening blog.
Beer for Breakfast is supported by San Diego-based Keg and Bottle, with locations in the College Area, Lemon Grove, Clairemont, Del Cerro, National City, Sorrento Valley, Rancho San Diego, La Jolla and Santa Barbara. Shop at Amazon Prime Now via Keg and Bottle for free, two-hour delivery on beer, wine and spirits.