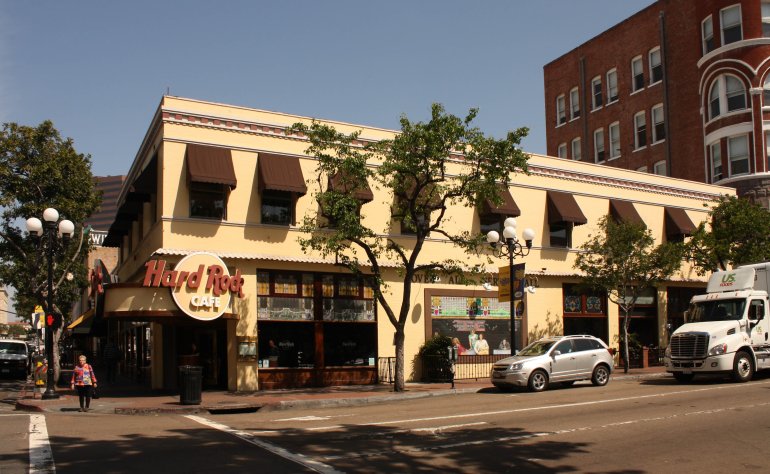 We all have that place that we did a ton of self-growing that helped mold us into the person we are today.
My San Diego story started almost 10 years ago when I stepped foot in 801 4th Ave. Hard Rock Cafe San Diego became my home and stayed that way for 6 years.
It broke my heart when I read the news over the weekend that the place I made so many friends at, had so many memories in, will be shutting its doors at the end of the year.
In a statement from Hard Rock:
On December 31, 2017, Hard Rock Cafe San Diego, located at 801 4th Ave., will be closing. San Diego is an important market for Hard Rock International and we are committed to our presence in the market with the Hard Rock Hotel San Diego. We are actively exploring other opportunities and expect to bring the cafe back to the area at the right time and in a new great location.
Hard Rock is so special to me. Growing up my family traveled a lot because of my dads job and we ALWAYS stopped at a Hard Rock Cafe no matter what city we were in. The collection of HRC shot glasses is some what ridiculous. When I found Hard Rock Cafe San Diego I knew I HAD to get a job there.
I remember the day I got hired.
It was my 21st birthday. It was my 3rd interview with the General Manager at the time and he was a big, intimidating guy but I knew I had to razzle-dazzle him. I remember the first thing he said was, "At the end of this I'm going to ask you why I should hire you and don't give me some BS answer like you're on time or a good worker." Got it. In the middle of the interview a Cheap Trick song came on and he asked if I knew who it was. Cheap Trick. Duh. He was so blown away that he watched the entire video just to make sure. The end of the interview came around and he said "So? Why should I hire you?"
My answer:
Because I'm awesome.
He laughed and I asked "are you really not going to give me a job on my 21st birthday?" Needless to say I got hired on February 6, 2008 and spent 6 years there.
Hard Rock Cafe San Diego will always have a special place in my heart.
Thank you Hard Rock Cafe San Diego for facilitating a place to grow as not only an employee but as a person and a place that I made life long friends.
I wonder if my dress still fits…