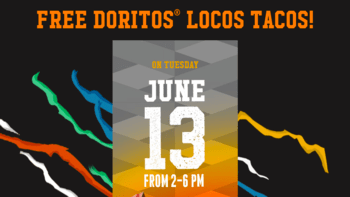 Two things that I love the most in life are free stuff and tacos. Put the two together and I'm one happy girl.
I don't know ANYTHING about basketball. I'm seeing people getting heated on social media about the game last night but haven't a clue why.
Well, Taco Bell is doing "redemption day" today. Before the 2017 NBA Finals began, the taco chain offered a free Doritos Loco Taco if a team "stole" a road win during the series.
Thanks to the Golden State Warriors 118-113 road win against the Cleveland Cavaliers in game three, Taco Bell is giving away free tacos TODAY.
Customers can grab their free taco at participating Taco Bell locations between 2 p.m. and 6 p.m. There is a limit of one taco so if you want a second one it will set you back $1.69.
But whatever! Free is free! So get yo taco on today!