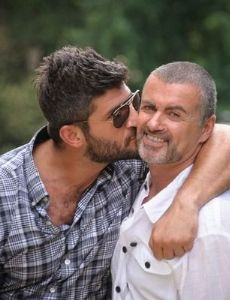 It's been a rough week as far as celebrity death goes.
As fans we are all mourning but I can't imagine the way their families and close friends are feeling right now.
I can't fathom how George Michael's partner, Fadi Fawaz, is feeling; especially since he's who found George Michael on Christmas morning unresponsive in bed.
ITs a xmas i will never forget finding your partner dead peacefully in bed first thing in the morning.. I will never stop missing you xx

— Fadi Fawaz (@fadifawaz) December 26, 2016
George Michael's partner Fadi Fawaz leaked a never before heard song on Twitter yesterday and it's beautiful. "This Kind of Love" was written and recorded by the late music icon and is speculated to be featured on the singer's unreleased album titled Trojan Horse.
It's also being reported that the single was produced in partnership with Elton John back in 1991.
So take a listen and reminisce about the late great George Michael.