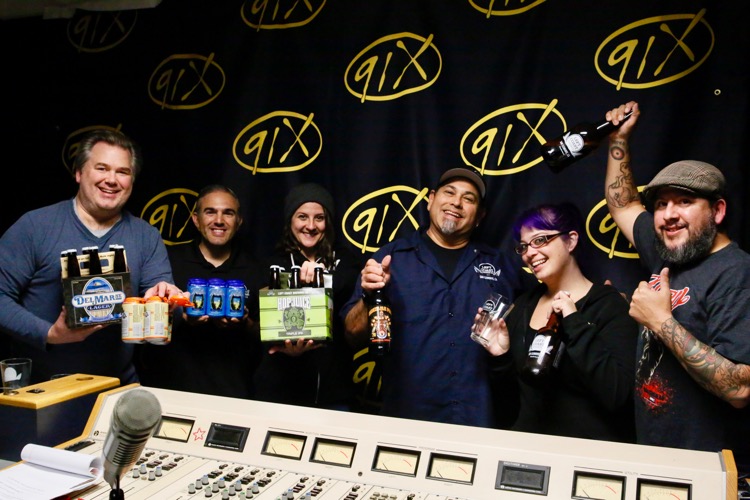 The Left Coast Brewing Co. team, including general manager Tommy Hadjis and California director of sales Martin Medina, made the trip from San Clemente to San Diego to join the 91X Morning Show for this week's edition of Beer for Breakfast.
Located at 1251 Puerta del Sol in San Clemente, Left Coast were craft beer pioneers in southern Orange County when they brewery went on-line in 2004, and they brought along not only their newest, single hop Galaxy Supernova IPA, but also their just-canned Una Mas lager and their classic — and still evolving — Hop Juice IPA.
Una Mas Mexican Amber-Style Lager
5.8 percent ABV
Galaxy Supernova IPA
6.5 percent ABV
Hop Juice Triple IPA
10 percent ABV
This week's Beer for Breakfast team included 91X morning host Tommy, Producer Danielle, What's Hoppening curator Abel Garcia — and filling in for our coiffable beer svengali Paul Segura, this week we enjoyed the company of Jill Davidson, president of the San Diego Brewer's Guild and the western regional sales manager of Pizza Port Brewing.
Thanks to Kaitlin Lester for the photos.
Special thanks to Paul Segura and Karl Strauss Brewing Co.
Find out more about craft beer releases and events in San Diego at the 91X What's Hoppening blog.
Beer for Breakfast is supported by San Diego-based Keg and Bottle, with locations in the College Area, Lemon Grove, Clairemont, Del Cerro, National City, Sorrento Valley, Rancho San Diego, La Jolla and Santa Barbara. Shop at Amazon Prime Now via Keg and Bottle for free, two-hour delivery on beer, wine and spirits.