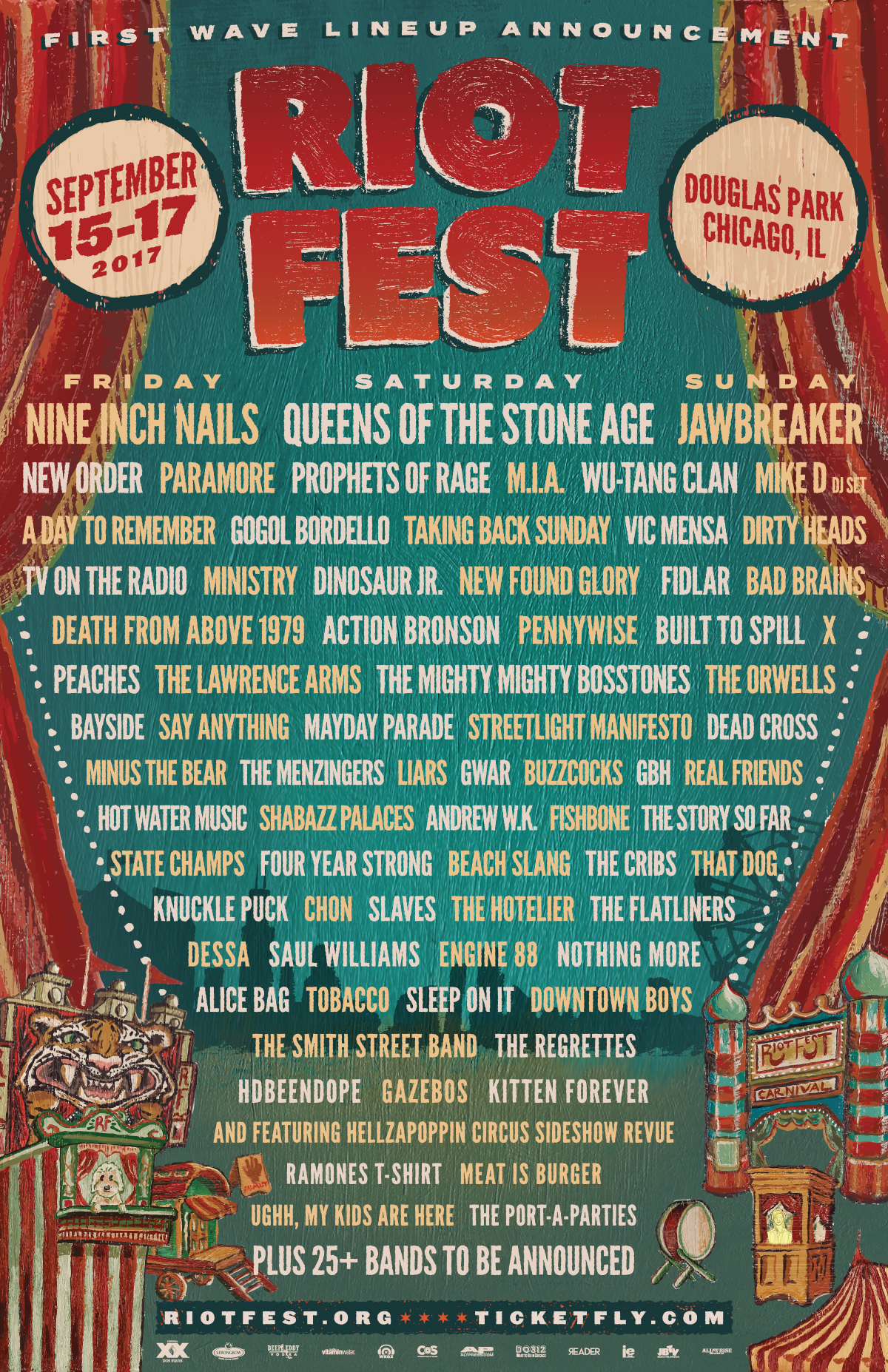 The line up for Riot Fest 2017 just dropped and it looks super rad!
I went to Riot Fest last year in Denver and it was such an awesome time. It was my first multi-day festival I had ever been to and it was incredibly memorable.
This year they are only doing Riot Fest in Chicago but the line up is SUPER SWEET!
Anyone want to donate to the "Danielle Goes to Riot Fest 2017" fund?
Tickets go on sale today at 10 am!
Nine Inch Nails (Friday), Queens of the Stone Age (Saturday), Jawbreaker (Sunday)
New Order, Paramore, Prophets of Rage, M.I.A., Wu-Tang Clan, Mike D (DJ Set),  A Day To Remember, Gogol Bordello, Taking Back Sunday, Vic Mensa, Dirty Heads, TV on the Radio, Ministry, Dinosaur Jr., New Found Glory, FIDLAR, Bad Brains, Death From Above 1979,  Action Bronson, Pennywise, Built to Spill, X, Peaches, The Lawrence Arms, The Mighty Mighty Bosstones, The Orwells, Bayside, Say Anything, Mayday Parade, Streetlight Manifesto, Dead Cross, Minus the Bear, The Menzingers, LIARS, GWAR, Buzzcocks, GBH, Real Friends, Hot Water Music, Shabazz Palaces, Andrew W.K., Fishbone, The Story So Far, State Champs, Four Year Strong, Beach Slang, The Cribs, that dog., Knuckle Puck, Chon, Slaves, The Hotelier, The Flatliners, Dessa, Saul Williams, Engine 88, Nothing More, Alice Bag, Tobacco, Sleep On It, Downtown Boys, The Smith Street Band, The Regrettes, HDBeenDope, Gazebos, Kitten Forever, Hellzapoppin' Circus Sideshow Revue, Ramones T-Shirt, Meat Is Burger, Ughh My Kids Are Here, The Port-A-Parties