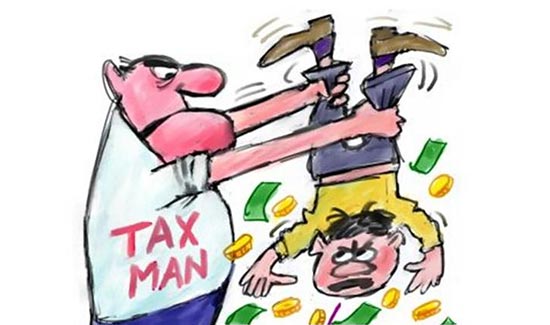 Tax day has arrived!
Taxes are laaaaammmmeeee. Just take all my dang money why don't you.
Still not completely sure where all that money goes but what do I know.
Any who, I love me a good deal and I love free stuff even more so here are all the deals and freebies to take advantage today.
(At participating locations)
Bruegger's Bagels: For the seventh straight year, Bruegger's is offering its bagel bundles for $10.40, a discount of $3.50. The deal currently runs through April 19.
Firehouse Subs: Customers can get a free medium sub with the purchase of a medium or large sub, chips and drink with this coupon. The deal runs from Tuesday through Thursday.
Hooters: At participating locations, Hooters is offering free kids meals through Tuesday with the purchase of an adult entree. The deal is dine-in only.
Hot Dog on a Stick: Fans of corn dogs might enjoy Hot Dog on a Stick's offer of a free Original Turkey Dog on Tuesday. The company says that no purchase is necessary, and there is a limit of one free dog per customer.
Kona Ice: Kona Ice trucks will be parked at various post officers and shopping centers across the America on Tuesday, serving free cups of tropical shaved ice. To find the location closest to you, tweet @KonaIce with your zip code.
Schlotzsky's: Schlotzsky's is offering a free Original sandwich on Tuesday with the purchase of a medium drink and a bag of chips.
Sonic Drive-In: In addition to offering milkshakes and ice cream slushes for half price after 8 p.m., Sonic Drive-in will have half-price cheeseburgers on Tuesday.
Cinnabon
On April 18, you can walk into any Cinnabon and get two Classic Bites, for free—and there's no purchase or coupon required.
Arby's
Some Arby's locations are offering free curly fries on April 18, with no purchase necessary. Call in advance to make sure.
Related article: Free Starbucks for life is an achievable dream
McDonald's
This is another Tax Day deal that varies from franchise to franchise, so you should definitely call you local McDonald's to make sure. But there are stories of free small fries, hamburgers for 59 cents, even Big Macs for a penny (when you buy one at regular price).
Boston Market
Boston Market will be offering a discounted Tax Day meal. For $10.40, you can get a half-chicken individual meal with two sides, cornbread, a regular fountain soda, and a cookie. The best part? There's no coupon required, because hey, after filing all that paperwork with the government, you deserve a break from submitting forms.