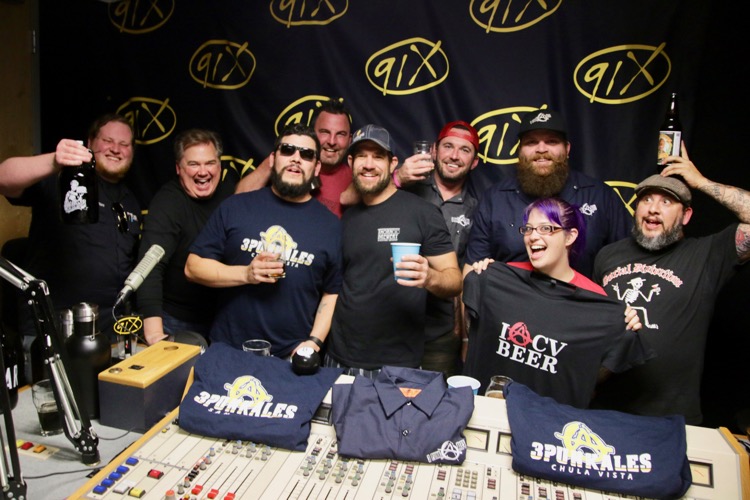 We had a packed studio this week's edition of Beer for Breakfast as we were joined by the team from 3 Punk Ales — now moving into their new locale in Chula Vista on Third Ave. — including head brewer Kevin Lewis, punk numero uno Steve Garcia, and brewer and self-described paper pusher John Marshall.
Sitting in as our "Stunt Paul" this week, while Paul Segura from Karl Strauss Brewing continues his collaboration project in Paris, was Beer for Breakfast alumni and Iron Fist Brewing chief brewer Brandon Sieminski! Great having this guy back.
Also joining us were Jay Jones and Eric O'Connor from Thorn Street Brewery, which collaborated with 3 Punk Ales on the IPA Hole, one of several beers we "officially" sampled:
Beaner Chocolate Stout
They named it, not us, but it's a tasty stout indeed — and this is what we started with!
IPA Hole
Collaboration between 3 Punk Ales and Thorn Street, named for your requisite IPA beer snob. Hey, we're just radio schmucks.
Kill the Pour IPA
Because every brewery should have beers named after Dead Kennedys songs.
Ken Schmidt Aloha Brews Chocolate Mint Stout
Want some holiday cheer in a bottle? This Ken Schmidt classic is bottled by Iron Fist in Vista, and is delicious under any circumstance.
This week's Beer for Breakfast team included 91X morning host Tommy, Producer Danielle, and What's Hoppening curator Abel Garcia — along with Iron Fist's Brandon Sieminski sitting in for Paul Segura.
Thanks to Kaitlin Lester for the photos.
Special thanks to Brandon Sieminski and Iron Fist Brewing.
Find out more about craft beer releases and events in San Diego at the 91X What's Hoppening blog.
Beer for Breakfast is supported by San Diego-based Keg and Bottle, with locations in the College Area, Lemon Grove, Clairemont, Del Cerro, National City, Sorrento Valley, Rancho San Diego, La Jolla and Santa Barbara. Shop at Amazon Prime Now via Keg and Bottle for free, two-hour delivery on beer, wine and spirits.