Today a random thought crossed my mind: what does my most frequently used emoji actually say about me? I most frequently use 'grimacing face', which is the official name according to the emoji authority emojipedia.org.
You know the one…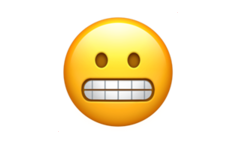 "Generally used when a mistake or unfavorable situation has arisen" states emojipedia. But for me it's more about being awkward or nervous. I guess I'm sending lot's of awkward texts.
Now that we're using emojis in just about every line of text outside of emails, science has stepped in to explain what that means for modern day communicatoin. CNN recently published an interesting read.
And the not-so-scientific community has taken an interest in psychologically profiling you based on your frequently used section. Elite Daily has a fun article on the subject. Women.com also has an amusing article analyzing people's frequently used.
What is you're most frequently used emoji?
Zach