Ocean Beach Pier at the intersection of Newport Ave and Abbot.  For more information go to OBOktoberfest.com
FRIDAY: Doors open at 4:20pm-10pm
Happy hour from 5pm-6:30pm where you can get 2 for 1 drink specials
Buy VIP tickets that gets you can get seven 6oz beers, entrance to the OB Oktoberfest and VIP seating, only $20! Click here for tickets
Live music starts at 4:20pm
Wear a blond wig and you get into the OB Oktoberfest for free and you will have the chance to win some great prizes!
SATURDAY: Doors open 9am-10pm
Beer Garden opens at 11am
Live music starts at 11am
Sausage Toss where someone could win $10,000 cash prize. Everyone who enters will receive a gift card to Déjà vu Love Boutique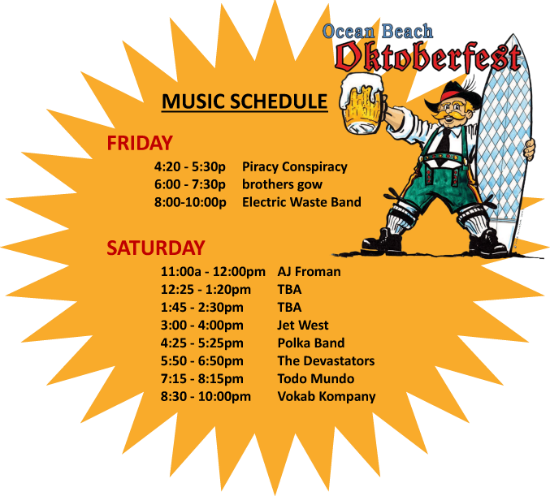 Don't drink and drive! The OB Oktoberfest has shuttles to pick you up and take you back safely.
PACIFIC BEACH LOCATION:
710 Beach Club
710 Garnet Ave
Pacific Beach, CA 92109
Friday 4:30pm-10:30pm
& Saturday 12pm-10pm
DOWNTOWN LOCATION:
The Local
1065 Fourth Ave
San Diego, CA 92101
Saturday 12pm-10pm
Rabbit Hole
3377 Adams Ave
Saturday 12pm-10pm