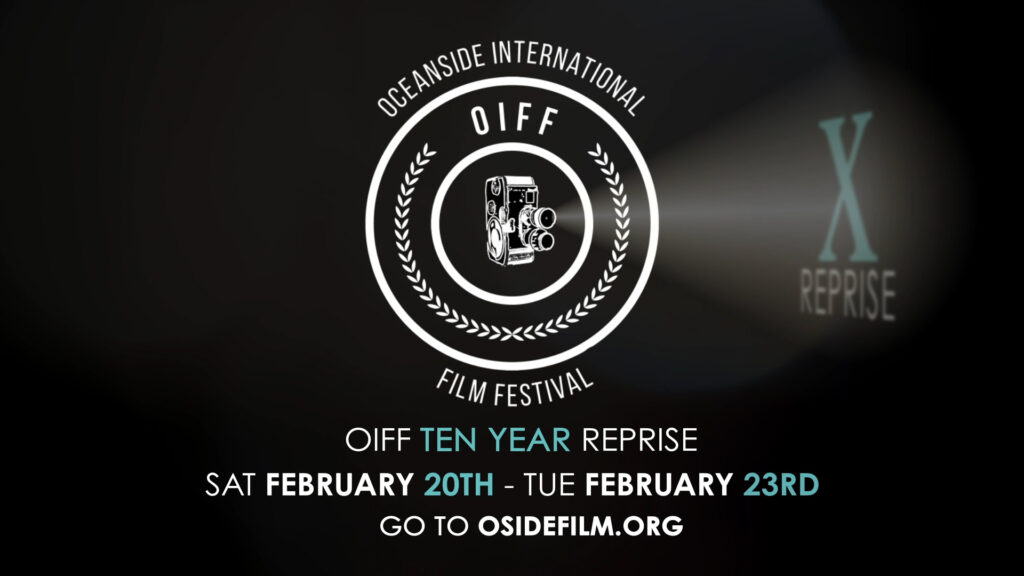 Do you like films? Rock N Roll? Sharks? Documentaries? Social Issues? Comedy? Drama? Well then,
Join us for the OIFF Ten Year Reprise brought to you by Visit Oceanside, The Pour House Oceanside, Frankie's, Sette Bello Excursions and the Oceanside Cultural Arts Foundation (OCAF). The event is happening virtually starting February 20th, visit www.osidefilm.org for a link to passes and information about the film blocks, over XX films highlighting the past ten years of OIFF.
We had such amazing feedback on our "X" Year Virtual Celebration we just had to add another event to allow us to really give tribute to some of the amazing moments including films, filmmakers, stars, winners, music and events of the last Ten Years.
This event also give us the opportunity to let everyone know we are moving our festival to February annually from its usual dates in August. We will be launching our call for entries on February 21st for the 11th running of the Oceanside International Film Festival that will be happening February 19th-22nd, 2022.
This current event happening February 20th through the 23rd. OIFF Ten Year Reprise will be in a virtual format and delivered through Eventive a secure online virtual film festival platform. The festival will be accessed through ticketing in the platform through our web site www.osidefilm.org. The program will involve 13 film blocks including a number of features, shorts, exclusive content, interviews and looks back at the past years of the Oceanside International Film Festival
With almost a year past since the first "shut down" we hope the virtual festival can bring some delight and entertainment into your homes.
Tickets / Passes for the event will be $15 and $25. $15 will allow a pass holder to choose a certain number of Film Blocks while the $25 pass will allow access to more films / film blocks.
Featured content includes.
Interviews with North County filmmakers Cameron Penn & Luc Hollywood.
A discussion with Oceanside animator & Duckman: Private Dick/Family Man creator, Everett Peck.
An Exclusive with local filmmaking legend Taylor Steele and his film "Save This Shark", featuring 3x world champion pro surfer Mick Fanning.
A reprise of Henry's The Last Waltz with added special and exclusive content.