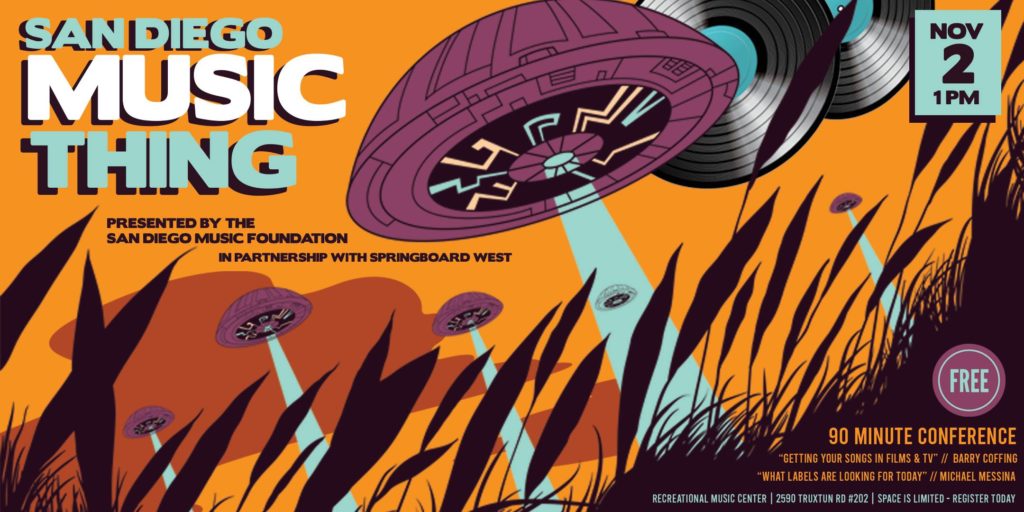 The San Diego Music Foundation and Springboard West present a Free Music Business Education Panel on Saturday November 2nd at the Recreational Music Center in Liberty Station.
The event is a 90 minute seminar and panel provided by The San Diego Music Foundation with support from Springboard West.
The San Diego Music Foundation raises money for it's guitars in school program which has expanded to include ukulele's and banjos. The program provides instruments for dozens of public schools all over San Diego County.
Springboard West is a music business seminar coming again to Ocean Beach in January. It brings together music artist on the rise and experienced industry professionals with the goal to help the artists advance their careers.
The seminar and panel on November 2nd and feature Barry Coffing a long time industry veteran who will talk to the crowd about "Getting Your Songs in Films and T.V.". Also on the panel will be Michael Messina an artist manager who will talk about "What Labels are Looking for Today".
I will be on hand to moderate and assist with other questions and the Q&A session. please sign up through the eventbrite page for FREE attendance.
the event will be at the Recreational Music Center 2590 Truxtun Road #202 San Diego, CA 92106 1pm to 2:30Pm see you there; https://www.facebook.com/events/536088313857926/