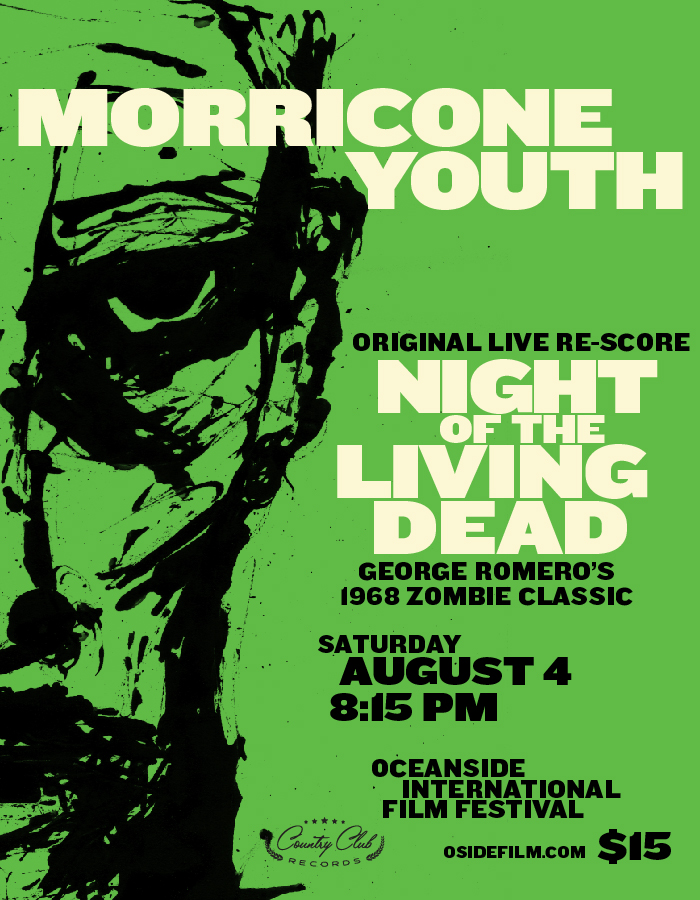 I really cannot express how important it is for you to attend these events if you have any sort of classic film fandom in you. A very very special and very rare set of events will happen at the Oceanside International Film Festival on Saturday August 4th and on Sunday August 5th. In Your Neighborhood brings Morricone Youth all the way from New York City. The band features  some strong roots in San Diego, members have been in bands like The Rugburns, aMiniature, The Holy Love Snakes and Creedle.
These special events blend classic cinema and live musical performance. Renown cinephiles Morricone Youth will perform a live re-score to a showing of the zombie classic Night of the Living Dead a 1968 film by George Romero on Saturday August 4th at the Brooks Theatre. On August 5th in the afternoon Morricone Youth will again perform a live rescore this time to a showing of George Miller's original Max Max from 1979 the classic dystopian action film.
Morricone Youth was formed in 1999 with a mission statement to compose, re-interpret, perform and record "music written for the moving image" (film/tv soundtracks, library music, etc.) in all incarnations from playing shows dedicated to specific composers/film genres in rock clubs/performance spaces with projections to live scoring films in theaters. Over the years, they've released four CDs, toured and had residencies at the Knitting Factory, CBGB, Tonic and, most recently, Nitehawk Cinema in Williamsburg. Brooklyn Academy of Music and Philadelphia Museum of Art have commissioned the group, respectively, to write an original score to Hitchcock's The Lodger performed Halloween 2013 and a film music "chance"
piece based on a chess match between masters for its Marcel Duchamp exhibit in 2012.
Again this is a very rare happening and tickets will go fast they are $15 in advance and go up to $20 day of show.
Tickets are available at www.osidefilm.org act quickly to secure your seat at this special event.
The Oceanside International Film Festival officially returns this August for five days worth of independent cinema at the Sunshine Brooks Theatre. The event, which is now entering its eighth annual edition, remains North County's longest running film festival, giving local and regional film fans the chance to see over 50 films from a wide spectrum of countries.