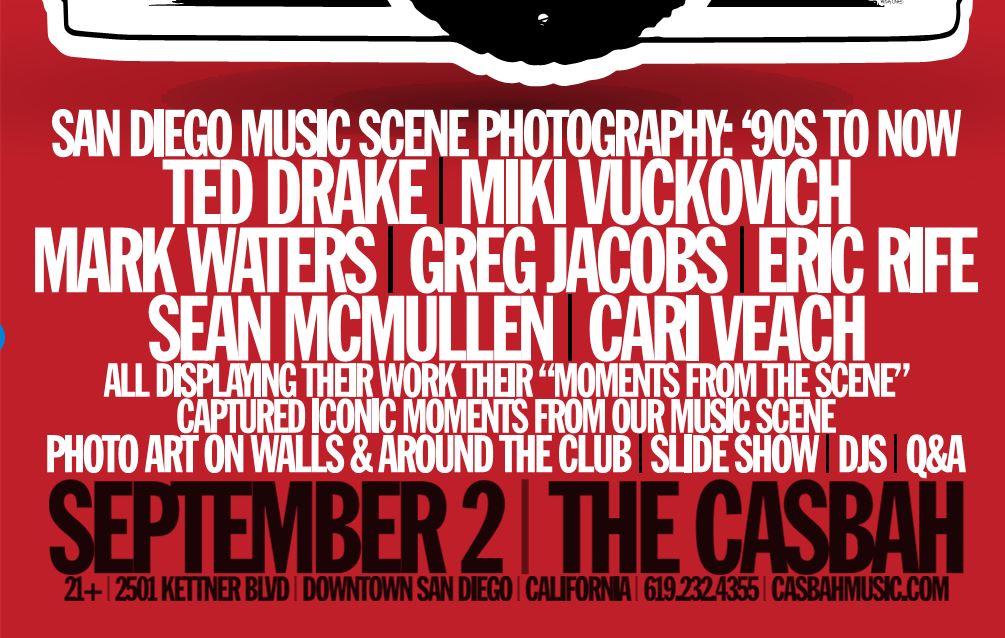 The world famous Casbah and In Your Neighborhood w/Lou Niles Presents
Moments from the Scene
A showing of iconic San Diego rock photography embodying moments captured by some of the most cherished photographers from our music community.
Join us Sunday September 2nd 3p-7p at the Casbah for a gallery of photographs, a Q&A session with some of the photographers and DJ's spinning local music and other stuff.
View photographic works from Eric Rife, Ted Drake, Miki Vuckovich, Mark Waters, Greg Jacobs, and potentially Sean McMullen and Cari Veach.
Many of the photos from these artists graced album art, PR photos, magazine stories and represent the shows, the moments and the music that etch in our minds moments from the scene we love to remember.
The photographers will display their work around the Casbah and offer an opportunity for you to look back in time and at some of their recent works as well. Most of the photographers are known for images captured in the 90's music scene explosion in San Diego that bring to mind bands like Drip Tank, Heavy Vegetable, Three Mile Pilot, Pitchfork, Drive Like Jehu, Inch Rocket From the Crypt, and so many others. Cari Veach will represent the new cool underground music from today's scene. We hope to have her on hand.
Various stalwarts from the music scene will interview a number of the photographers so don't miss those sessions on the main stage. Dj's will spin local music and other cool stuff, enjoy the musical mood settings by Pall Jenkins(black heart procession, three mile pilot), Mitch Wilson (No Knife, Lunar Maps), and Lou Niles (IYN, Loudspeaker).
Photographers will also have works available for purchase or ordering.
Come one come all $5 cover 3pm-7pm
For more information www.casbahmusic.com