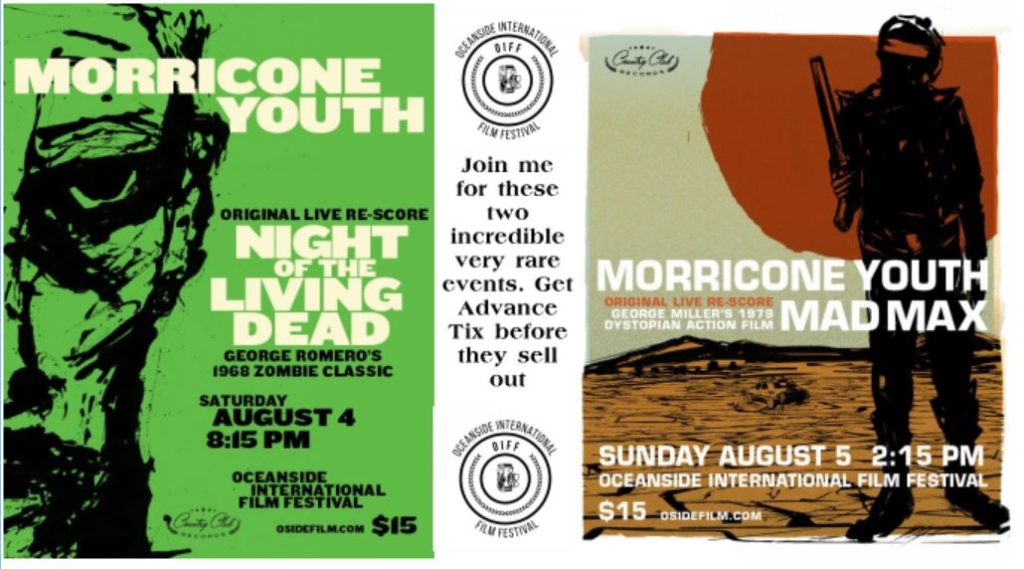 If you are a fan of Music or a fan of Cinema; Do Not, miss these two very special events happening at the Oceanside International Film Festival on Saturday night and Sunday afternoon.  The Oceanside International Film Festival and In Your Neighborhood are proud to bring two unique performances to San Diego. These special events blend classic cinema and live musical performance. Renown cinephiles Morricone Youth will perform a live re-score to a showing of the zombie classic Night of the Living Dead a 1968 film by George Romero on Saturday August 4th at the Brooks Theatre. On August 5th in the afternoon Morricone Youth will again perform a live rescore this time to a showing of George Miller's original Max Max from 1979 the classic dystopian action film.
Morricone Youth was formed in 1999 with a mission statement to compose, re-interpret, perform and record "music written for the moving image" (film/tv soundtracks, library music, etc.) in all incarnations from playing shows dedicated to specific composers/film genres in rock clubs/performance spaces with projections to live scoring films in theaters. Band members have scored for documentaries, short films, etc. and include current/past members of bands Creedle, Crash Worship, Pain Teens, Pronto (Wilco side band), aMiniature and The Rugburns.
Tickets are available at www.osidefilm.org act quickly to secure your seat at this special event.